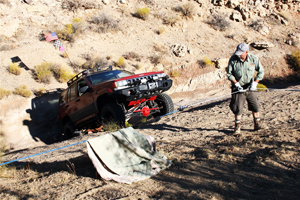 A Primer on Winching, Part 1 Rigging a "floating" pulley. 2nd parachute will be added next. If you spend any significant amount of time in difficult terrain, you're bound to encounter a recovery situation at some point. It could be either your vehicle or someone else's. And a winch may be the proper tool at that time. This is a good time to review recovery, and winching in particular. The steps that follow are taken from my nifty and exclusive Winch Recovery Bandana. Keep in mind that these tips and the information provided on the bandana are not a substitute for proper training, sound judgment and quality equipment. Every winching operation should start with a plan in your mind as to how you'll rig it up. Winching is a risky procedure; proceed very slowly and methodically. You're dealing with material and parts that are subject to a tremendous amount of force. A mistake can be fatal, as I pointed out in "Don't Lose Your Head While Recovering a Vehicle." Take your time. Winching begins with a walkthrough. You want to inspect all parts and lines while the system is under light tension. If everything looks good, you can power up and proceed with the recovery. The vehicle doing the recovery is kept in neutral with the emergency brake on. Having the transmission in neutral protects the parking pawl. Chock the front wheels if you can. (Some people even anchor this vehicle to a tree or other vehicle.) You do not want that vehicle to move. Start the winch slowly so you take up some of the slack. Lines that are slack while on ground take on a new dimension when under tension. You need to check them before proceeding with the recovery. The lines may be binding or twisting. They could be rubbing against an edge on the bumper or other body part. In some cases the lines end up right over a taillight. Under load those lines will smash the cover and bulb. Check all connections. Start at one end of the line and work your way through. Are any connections about to be pulled through the pulley? Adjust as needed. Keep the engine running, or its battery will be drained dry. Even though the emergency brake is on, someone should be in the recovery vehicle applying pressure to the brakes. Now review the winch cable as it is leaving the winch. Does it leave at greater than a 15 degree angle? If so, it will start to pile up on one side of the drum, causing the cable to snag and possibly break that side of the winch. If you see the cable starting to pile up, stop winching. Disconnect the cable, pull it out manually, and wind it up neatly. Always start with your cable properly wound on the drum. Then, consider moving the recovery vehicle or pulley to decrease the angle of pull. When you winch at greater than a 15 degree angle, there's a greater chance of the cable rubbing or getting caught on the bumper of the recovery vehicle. There may be times when you have no choice but to winch at a severe angle. Just watch the cable closely. As you're paying out the cable, remember the Rule of 5: Keep at least five turns of cable on the drum at all times (eight turns for synthetic cable, because it's slippery). If you don't keep a minimum amount, the tremendous force of recovery will pull the rest of the cable right off the drum. If you have a large blanket, toss it over the pulley. (See image. ) Called a parachute by 4-wheelers, this blanket will absorb some of the energy should the cable snap. Keep an eye on the parachute during winching. It has a tendency to ride up the cable. You don't need that jamming into the pulley or winch. Stop the winching if necessary to move the blanket. Position spotters to watch the lines and pulley. (They should off to the sides of the vehicles. No one should be in the path of the lines.) Winch slowly, and pay particular attention to portions of cables nearest the vehicles. You're watching for any binding, rubbing and twisting. Make sure, also, that the vehicle being recovered is behaving properly. You may need to stop the winching and adjust the whole arrangement. As I mentioned at the beginning, this is just part of the entire winching process. Next month we'll review the corresponding steps, which take more of a strategic view. Until then, good winching! # # # # ##########################Related Articles from Badlands Off-road AdventuresPress Release - Winch Recovery Bandana Don't Lose Your Head While Recovering a VehicleDid you miss the previous articles? Set Your Tent Up Right 12 Must Have Books for the 4 Wheeler 6 7 Reasons Why Your Spouse Should Learn to Drive Off Road. Maintain Your Edge Media Release Winch Recovery Bandana Click for higher resolution imageBadlands Off-Road Adventures, Inc. just released their "Winching Recovery Bandana". According to Tom Severin, President of Badlands Off-Road Adventures, "the Bandana is a fantastic supplement to the Badlands Off-Road Adventure "Basic to Advanced Winching and Recovery DVD". The Bandana is packed full of useful information and is a quick reference in the field when no DVD player is available." A winch is a useful off-road tool that can quickly become dangerous and potentially lethal to the operator and spectators. Proper use requires good working knowledge of safety procedures, safe riggings and inspection. Since winches are not used often, the Bandana serves as a quick reminder of the details learned in the training class and watching the DVD. The Bandana layout follows the "Vehicle Recovery Plan" with pathways to more detail. A unique section of the Bandana, gives the steps for a "Winch Rigging Check: Walk through" so that you verify every element of the rigging before you commit to the pull. Stuff this in your recovery kit and you will always be ready! Badlands Off-Road Adventures will be stocking their Dealers soon. Additional colors will be available in the near future. The Bandana can be ordered at 4x4training.com - Winch Recovery Bandana" Pick up or order the Winching DVD too! There is no substitute for hands on training. If you can, sign up for one of Badlands Off-Road Adventure's Winching Clinics. Warning – the Bandana and DVD are not a substitute for proper training and use of quality equipment that is used within the bounds of their safe working load. We advise you to use the information provided in both the Winching Recovery Bandana and the "Basic to Advanced Winching and Recovery DVD" at your own risk. We cannot control the quality and specifications of the equipment used and the methods actually employed. Winch Recovery Bandana Order Button ColorsYellow Natural ### ##########################America's Hidden Treasures (AHT)You have heard me talk about America's Hidden Treasures in prior e-Zines. It has been a passion of Ben Benedetti for a long time to make a series of videos of beautiful and remote areas where you need a 4-wheel drive to get in and out. I first met Ben in 2007 when he sought me out to help him with a pilot video. Since then we have become great friends. I have committed to Ben to do whatever I can to help him make a second full length version to fill full his dream. Ben has just launched a community funded venture for the second video. Take a look at this link to Kickstarter. http://www.kickstarter.com/projects/1590847859/americas-hidden-treasures-remote-wildreness-advent If Ben is funded I will be donating my time during the filming of the video. The video will center on a young couple as the "guest adventurers" driving their 4WD vehicle as there discover a remote, beautiful area to explore and camp. If you would like to be interviewed for the role of guest adventurer, let me know. I have a direct line to the producer and can at least get your head shot and resume in front of him. And BTW, since I am guiding the trip, there may be a slot for one or two vehicles to tag along. We don't know the secret location yet and nothing can happen until it is funded. So don't ask! ##########################4WDrive -Canada's premier offroad magazineIf, like me, you already subscribe to all the 4 Wheel Drive Magazine in the USA, you might be interested in a subscription to 4WDrive Magazine from Canada. There is a lot going on in Canada and the article are interesting. They cover mostly Canadian event. Like the event when I lived in Canada, where I almost won a Warn winch. If I had only replaced my tie rod ends. But that is a story for another day. You just might find yourself heading to a Canadian event after reading this magazine! http://www.can4x4.com/ or Send an email to:
This email address is being protected from spambots. You need JavaScript enabled to view it.
##########################Toys for Tots December 8th & 9th, 2012It's time again for the 6th annual Toys for Tots is at its new location in Hungry Valley State Vehicle Recreation Area, Gorman CA Located just north of Los Angeles. http://ohv.parks.ca.gov/?page_id=1192 The entire Aliklik Campground right next to the 4x4 Practice Course has been reserved for the event. The campground is near trails for exploration and serves as the gateway to the Los Padres NF. Bring a new unwrapped toy valued at $10 or more to the meet up. You get a raffle ticket for your contribution. PLEASE NOTE: For every 5th toy you donate you will receive an additional raffle ticket. Check out everyone's rigs, meet new people and see some you already know. Food will be providing lunch on site. Hotdogs, chips and sodas.SCHEDULEOn Saturday check in starts at 9am. We'll start grilling around NOON and start the raffle about 2pm. The rest of the time, you can drop off toys (if after the raffle, you won't get a chance to win anything), meander around and ogle the rigs and meet fellow off road enthusiasts from all over the www. On Sunday, for those who've camped there may be a trail run up to Alamo Mountain. More information on this as it becomes available. The trail run will be a scenic and simple route. Nothing hardcore. For more information check out the facebook page: https://www.facebook.com/events/454528764598755/?fref=ts ##########################November Schedule Click for higher resolution imageSand & Dunes Clinic - Pismo November 03. Getting Started Off-Road Driving - LA area November 10 Tire Repair & Hi-Lift Mini Clinic November 11. T&T Rail Road Adventure November 24-25 ##########################Getting Started Off-road Driving Clinic - San Diego October 27, 2012 This will be the second class since we announced the additional sessions in Borrego Springs, CA which is about 90 miles east of San Diego. You will receive the same instruction as the Getting Started Classes we have been holding in hngry Valley. This is a one-day session. The session includes classroom and behind-the-wheel instruction. More Details... You can register directly here ##########################Sand Clinic November 03, 2012The next Sand Driving Clinic is November 3rd. This day-long clinic will expose you to a variety of driving conditions and levels of difficulty. Driving on sand is challenging and different than dirt, so we'll progress slowly as you learn the proper techniques. As your confidence grows, you will master increasingly more challenging dunes. Along the way you will be exposed to the beauty of SVRA and the thrill of the windswept dunes. This is a rare opportunity to cruise the only beach in California open to vehicles. More details... Register for the Sand Clinic using this link. http://4x4training.com/calendar/calendar.php#SandPismo ##########################Getting Started Off-road Driving Clinic - LA November 10, 2012 The clinic is held in Hungry Valley State Vehicle Recreation Area near Gorman CA. This clinic is specifically designed to meet the needs of novice off-highway drivers or someone with a bit of experience who is looking for a more complete understanding. This is a one-day session. The session includes classroom and behind-the-wheel instruction. More Details... You can register directly here ##########################T&T Rail Road Adventure in November Our goal is to cross through Johnson Valley, enjoying what it has to offer, and making our way North along the old Tonopah & Tidewater (T&T) Rail Road bed to the Rasor OHV, Afton Canyon and the western edge of the Mojave Preserve. On the way we will skirt the Rodman Mountain Wilderness and cross I-40. This adventure is 2 days of scenic, historical, light wheeling and a night ( 2 if you prefer) of primitive camping under the stars. We can plan a Dutch Oven pot luck for our evening meal. Check out the details and sign up on the website: http://www.4x4training.com/Adventures/TTRailroad.html You can register directly at http://www.4x4training.com/calendar/calendar.php#TTRailroad ##########################Advanced Beginner Clinic December 02 There is no Advanced Beginner Clinic scheduled in November. Your next shot at it is December 2nd in Mojave, CA. Next year, we have scheduled a few Advanced Beginner clinics for Borrego Springs. The clinic is held in the El Paso Mountains near Mojave CA. The goal is to help you get a "better feel" for tire placement and to visualize the obstacles as they move into your blind zone. You will gain more behind the wheel experience combined with picking lines. The difficulty level is one step higher than the basic class and you can expect some pin striping. More Details... You can register directly at http://www.4x4training.com/calendar/calendar.php#Basic2 ##########################The TDS Sweepstakes Vehicle http://TDS4x4.com/jeep/ ##########################Volunteer at the Bickel Camp Friends of last Chance Canyon are looking for additional volunteers to help by camping at the Bickel Camp. Bickel Camp is a museum in the desert preserved in context with the help of volunteers and the BLM. Located in Last Chance Canyon below famed Burro Schmidt's Tunnel, Bickel Camp is mostly intact because of the help from volunteers. Friends of last Chance Canyon (http://www.tflcc.org) is a non-profit formed to help preserve Bickel Camp and other cabins and artifacts within last Chance Canyon. Want to spend a week or a weekend in the desert? They are always looking for volunteers to help by camping on site (with or without docent responsibilities). It's fun! And you'll be helping to preserve our California Mining History. There is a motor home on site, a porta-potty and support from volunteers with water and other supplies. Contact Charlie Hattendorf through the website above so you can be scheduled in! For more information about the Bickel Camp check out Bill Gann's web site. http://www.zyworld.com/billgann/BickelCamphome.htm ##########################The Badlands Off-road Adventures Store Click here if you cannot see the full store ##########################
I hope to see you on the trails! Tom Severin, President Badlands Off Road Adventures, Inc. 4-Wheel Drive School 310-374-8047 http://www.4x4training.com Make it Fun. Keep it Safe. ##### If you find this information valuable, please pass it on to a friend. You can forward them the email. If you received a forwarded copy of this newsletter and would like to subscribe for yourself, go to: www.4x4training.com/contacts.html and follow the instructions to join our mail list. Want To Use This Article In Your Magazine, E-Zine, Club Newsletter Or Web Site? You are welcome to use it anytime, just be sure to include the following author/copyright information: Tom Severin, 4x4 Coach, teaches 4WD owners how to confidently and safely use their vehicles to the fullest extent in difficult terrain and adverse driving conditions. Visit www.4x4training.com to develop or improve your driving skill. Copyright 2012, Badlands Off-Road Adventures, Inc.
Original linkOriginal author:
This email address is being protected from spambots. You need JavaScript enabled to view it.